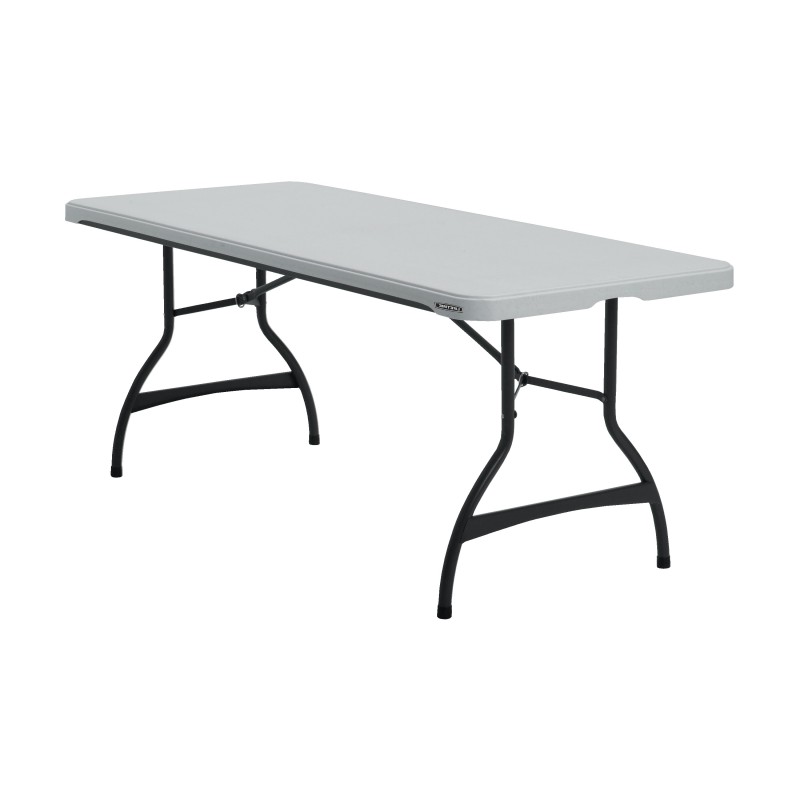  
Catering table 80272 MAGNETIC
Wholesale price
69.90
€
net
Lowest price of 30 days before promotion: €69.90 net
The catering folding table 80272 is made of high-density polyethylene, which makes it solid, light and durable. It was designed, manufactured and patented by LifeTime in the USA. It has the innovative MAGNETIC stacking system, which saves 20% of storage space and also protects the tables from being moved during transport. The table frame is powder-coated and guarantees the longest service life. In addition, the table top is UV-resistant, which makes the table also very good for outdoor use. The 80272 table is designed for rigorous commercial applications and is the perfect solution for banquets, events and social gatherings. The quality is also confirmed by the 10 year manufacturer's warranty for catering folding tables. 
ADVANTAGES
especially light catering folding table
unique and patented MAGNETIC stacking system for tables
suitable for indoor and outdoor use
weather, UV and moisture resistant
10% less weight thanks to a special steel alloy for easier transport and use
Waterproof plate in white color, easy to keep clean
wide legs ensure ideal stability
easy to use and move
The stacking table is easy to store, thanks to the new MAGNETIC stacking technology you save an additional 20% of the storage space
Rubber feet reduce noise and prevent floor cracks
secured during transport each table is covered with a foil pouch
The plate corners are designed to be shockproof
The quality of the table version was confirmed by hammer tests.
TECHNICAL SPECIFICATIONS
Use: commercial
Table dimensions: 183 x 76 x 74 cm (182.9 x 76.2 x 73.6 cm table top length x table top width x table height)
Dimensions after folding: 182.9 x 76.2 x 5.4 cm (tabletop length x table top width x table height)
Plate thickness: 5.1 cm
Panel color: white
Frame color: sand gray
Panel material: HDPE high density polyethylene
Frame material: powder coated steel
Frame profile: round Phi 28 mm
Table weight: 13.9 kg
Guarantee: 10 years
CATERING TABLES WITH MAGNETIC STACKING SYSTEM, Model 80272 APPLICATION
Commercial, for professional users, with high intensity of use, i. Banquets, conferences, business centers, open air events, parties, trainings, parties etc
PATENT FROM THE USA
Catering folding tables have been patented and manufactured by the American company LifeTime. The table tops are made of HDPE, which is very light and at the same time very resistant and firm. LifeTime has existed on the market for over 30 years and has been producing catering tables since 1998. It is the world leader in the production of polyethylene furniture.
The table 80272 is the most innovative table in the world that can be stacked in the MAGNETIC system and is especially suitable for commercial applications.
Data sheet
| | |
| --- | --- |
| Height | 74 cm |
| Width | 76 cm |
| Length | 183 cm |
| Table top | polyethylene |
| Type | catering |
| Weight | 13,9 kg |
| Leg spacing | 150x64 cm |
DELIVERY METHOD
Thanks to our own fleet of vehicles, we can offer you transport by MEXTRA cars - including deliveries by large trucks. This guarantees safe and fast delivery directly from our warehouse to your premises.
When ordering goods in our online store, you can use several available delivery methods. For years, we have been cooperating with companies specializing in international transport, such as: DHL, DB SCHENKER or RABEN.

We also encourage personal pickups in our warehouses. For details, please contact the Sales Department.

PAYMENT METHOD
PAYMENT ON COLLECTION - on delivery at our warehouse. It is possible to pay in cash or by credit card..
100% PREPAYMENT - payment by bank transfer to the indicated bank account or DotPay electronic payment.
30% advance payment - in the form of an advance payment by bank transfer, the remaining 70% paid before sending the goods or an advance payment by bank transfer, the remaining 70% paid in cash to the driver upon delivery.