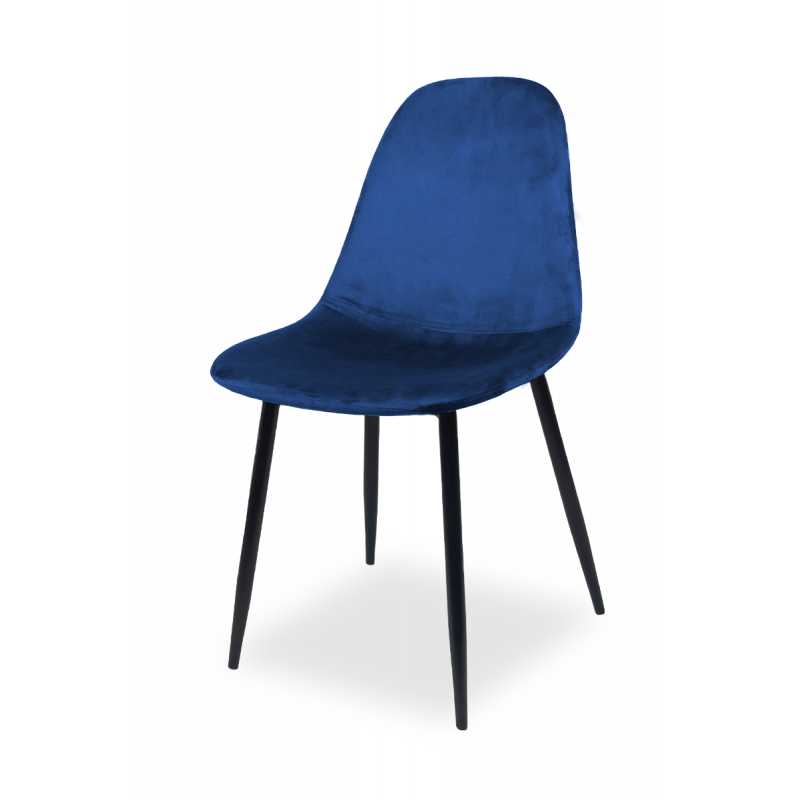  
Bistro chair BELLA MILANO Blue

The BELLA MILANO upholstered bistro chair is a proposal for gastronomic establishments that want to choose upholstered chairs. BELLA MILANO chairs have velor upholstery with a strength of 50 thousand. cycles on the Martindale scale. These are upholstered bistro chairs adapted for commercial use. Thanks to this, the use of the chair will be possible for a long time without visible signs of wear.
The base of the BELLA MILANO bistro chair is machine-welded, which ensures stability and greater durability than in chairs intended for domestic use. The seat of the chair has been designed in such a way that the angle of the backrest offers maximum seating comfort while maintaining the compact dimensions of the entire chair. The base of the chair is powder coated, which increases the resistance to knocks and scratches, which is important in commercial use. BELLA MILANO bistro chairs are available in the 4 most popular colors, which will allow you to choose a color scheme that suits your premises.
The most important advantages of BELLA MILANO bistro chairs:
Abrasion-resistant upholstery - resistance up to 50,000 cycles
Specially designed backrest angle guarantees comfort during use
Powder coating of the base guarantees protection against bumps and scratches
The chair is covered by a 2-year manufacturer's warranty
Constantly available in stock
Available in 4 universal colors
Bella Milano are bistro chairs combining delicate beauty, highlighted with velvet velor, with durability suitable for the catering business. The uniqueness of these chairs does not lie in their appearance - because there are many similar chairs, but in the art of choosing the right materials, finding the proportions of shapes and the right production technology.
Bella Milano bistro chairs attract with a combination of soft - velor upholstery with a modern - metal base, painted in black-matte. The character of the chairs is emphasized by their saturated color, shimmering with shades depending on the arrangement of the velor hair. The warmth of the velvet upholstery is felt at the first touch, and the desire to extend this moment does not pass quickly.
Bella Milano bistro chairs are very ergonomic, contoured to provide comfort to their users. High-quality components increase the strength of the furniture, extending its usability and durability.
Bella Milano - original chairs for cafes, upholstered - velor, are offered directly, exclusively by MEXTRA, in the offer of Meble dla HoReCa. The company's offer is addressed both to end customers, i.e. cafes, restaurants, and resale companies throughout Europe.
Our experience in the production of furniture for cafes - also upholstered, is over a million chairs sold. We provide high-quality service and fast goods transport, and the prices we offer are unbeatable.
Feel free to contact us, we will be happy to answer any questions.
Data sheet
| | |
| --- | --- |
| Height | 84 cm |
| Weight | 4,4 kg |
| Color | Blue |
| Height to the seat | 47 cm |
| Seat width | 46 cm |
| Seat depth | 38 cm |
| guarantee | 2 years |
DELIVERY METHOD
Thanks to our own fleet of vehicles, we can offer you transport by Mextra cars - including deliveries by large trucks. This guarantees safe and fast delivery directly from our warehouse to your premises.
When ordering goods in our online store, you can use several available delivery methods. For years, we have been cooperating with companies specializing in international transport, such as: DHL, DB SCHENKER or RABEN.

We also encourage personal pickups in our warehouses. For details, please contact the Sales Department.

PAYMENT METHOD
PAYMENT ON COLLECTION - on delivery at our warehouse. It is possible to pay in cash or by credit card..
100% PREPAYMENT - payment by bank transfer to the indicated bank account or DotPay electronic payment.
30% advance payment - in the form of an advance payment by bank transfer, the remaining 70% paid before sending the goods or an advance payment by bank transfer, the remaining 70% paid in cash to the driver upon delivery.