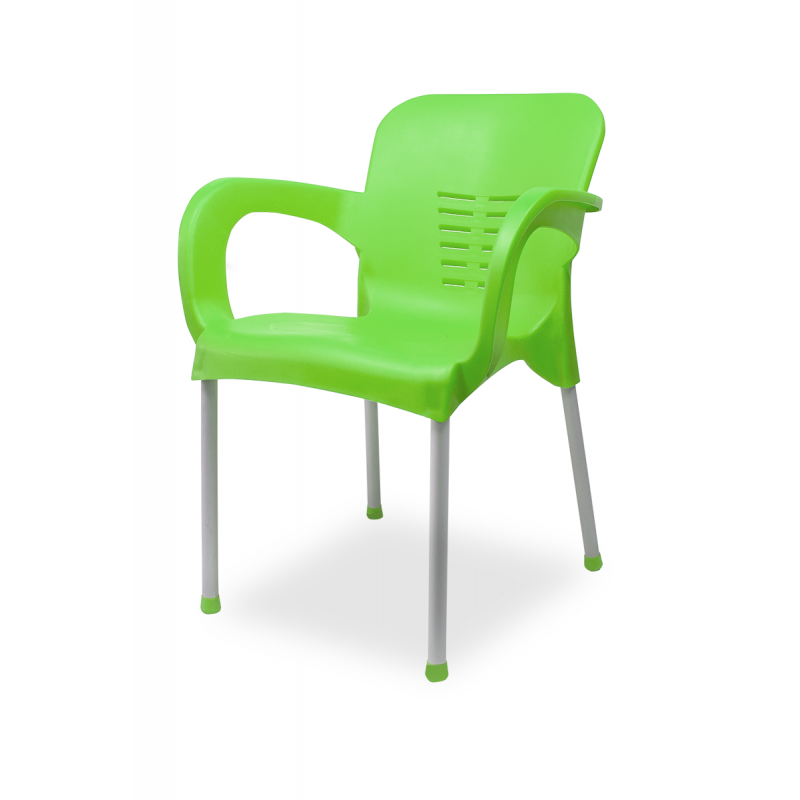  
Beer garden chair BISTRO ALU Green
Wholesale price
24.40
€
net
Lowest price of 30 days before promotion: €24.40 net
The BISTRO ALU beer garden chair is a model from the economic line of outdoor chairs. The chair is available in four colors: black, white, orange and green - each with aluminum legs.
The BISTRO ALU chair has a seat, backrest and armrests cast in one form. Thanks to this, it does not have any joints and screws. The legs of the chair were embedded in the seat at the stage of casting, which means that they are permanently attached. This production technology ensures the stability of the entire structure.
The legs of BISTRO ALU beer garden chairs are made of aluminum, which, together with the polypropylene seat, makes the chair completely resistant to weather conditions and rust. Special holes in the seat allow drainage of water that collects on the surface during rain, and additional openings in the backrest ensure comfortable use. The BISTRO ALU beer garden chair is characterized by a very good profiling, which guarantees comfort while sitting.
The most important advantages of BISTRO ALU beer garden chairs:
Made of materials resistant to weather conditions
Stacking up to 4 pieces allows you to save the space needed for storage
The chair is ready to use - there is no need to twist it
The chair is covered by a 2-year warranty
Constantly available in stock
Available in 4 colors: black, white, orange and green
Data sheet
Height
81 cm
Weight
2,8 kg
Stacking (max)
4
Seat width
59,5 cm
Seat depth
59 cm
Material
frame - aluminium
seat and backrest - polypropylen
guarantee
2 years
The color of the seat and backrest
Green
DELIVERY METHOD
Thanks to our own fleet of vehicles, we can offer you transport by MEXTRA cars - including deliveries by large trucks. This guarantees safe and fast delivery directly from our warehouse to your premises.
When ordering goods in our online store, you can use several available delivery methods. For years, we have been cooperating with companies specializing in international transport, such as: DHL, DB SCHENKER or RABEN.

We also encourage personal pickups in our warehouses. For details, please contact the Sales Department.

PAYMENT METHOD
PAYMENT ON COLLECTION - on delivery at our warehouse. It is possible to pay in cash or by credit card..
100% PREPAYMENT - payment by bank transfer to the indicated bank account or DotPay electronic payment.
30% advance payment - in the form of an advance payment by bank transfer, the remaining 70% paid before sending the goods or an advance payment by bank transfer, the remaining 70% paid in cash to the driver upon delivery.