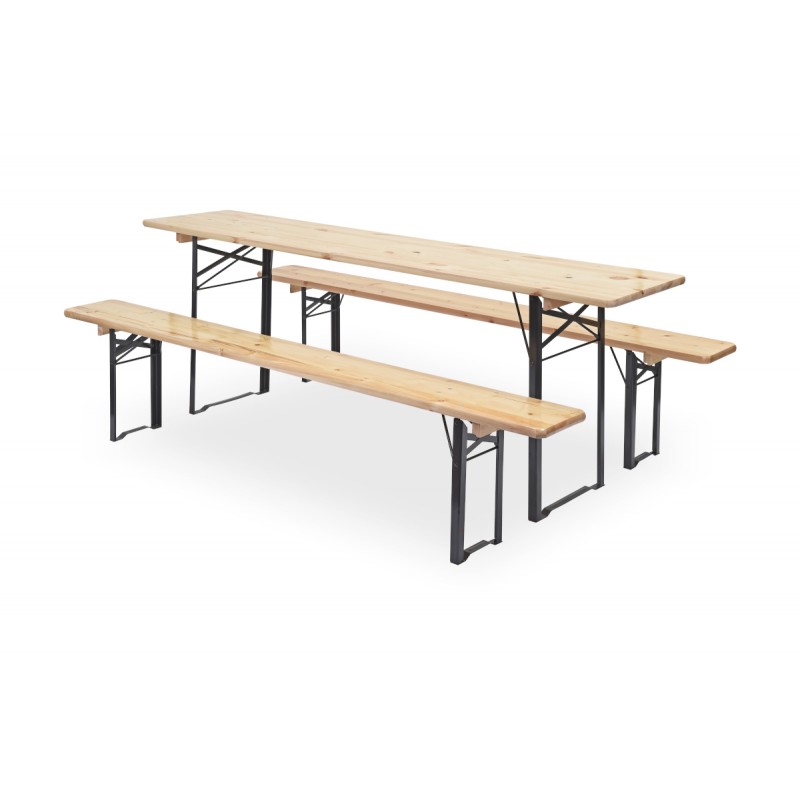  
Beer set WOODY STRONG 220x50 cm
Beer sets are products known all over the world for their universal use and extraordinary durability. The WOODY STRONG sets we offer are available in the most popular sizes:
WOODY STRONG beer set 180x50 cm
WOODY STRONG beer set 220x50 cm
WOODY STRONG beer set 220x70 cm
WOODY STRONG beer set 220x80 cm
Made of seasoned pine wood with Long Rest aging, varnished in 3 layers using UV varnish, thanks to which they retain their natural appearance. Machine ground spruce wood ensures the absence of splinters - and thus, safe use. The falling knots are removed, and the space after them is taped off. This increases the strength of the boards and prevents knots from falling out during use.
For the production of the frames, durable angles with a thickness of 3 mm were used, which were powder coated with a primer, which increases its resistance to weather conditions.
Thanks to the use of special stacking distances, WOODY STRONG beer sets can be stacked without the risk of damaging the countertops. In this form, the sets take up little space during storage. On the area of ​​1.1 m2, 15 beer kits with dimensions of 220x50 cm [h = 2.25 m] will fit. WOODY STRONG beer sets are covered by a one-year manufacturer's warranty.
Data sheet
Weight
39,7 kg
39,7 kg
Stacking (max)
15 pcs
Type of wood
seasoned pine wood
Table dimensions (L x W x H)
220x50x77,5 cm
Bench dimensions (L x W x H)
220x25x47 cm
Thickness of the top / seat
28 mm
Grubość blachy
3 mm
Weight of the Table
17,7 kg
Bench Weight
11 kg
DELIVERY METHOD
Thanks to our own fleet of vehicles, we can offer you transport by MEXTRA cars - including deliveries by large trucks. This guarantees safe and fast delivery directly from our warehouse to your premises.
When ordering goods in our online store, you can use several available delivery methods. For years, we have been cooperating with companies specializing in international transport, such as: DHL, DB SCHENKER or RABEN.

We also encourage personal pickups in our warehouses. For details, please contact the Sales Department.

PAYMENT METHOD
PAYMENT ON COLLECTION - on delivery at our warehouse. It is possible to pay in cash or by credit card..
100% PREPAYMENT - payment by bank transfer to the indicated bank account or DotPay electronic payment.
30% advance payment - in the form of an advance payment by bank transfer, the remaining 70% paid before sending the goods or an advance payment by bank transfer, the remaining 70% paid in cash to the driver upon delivery.