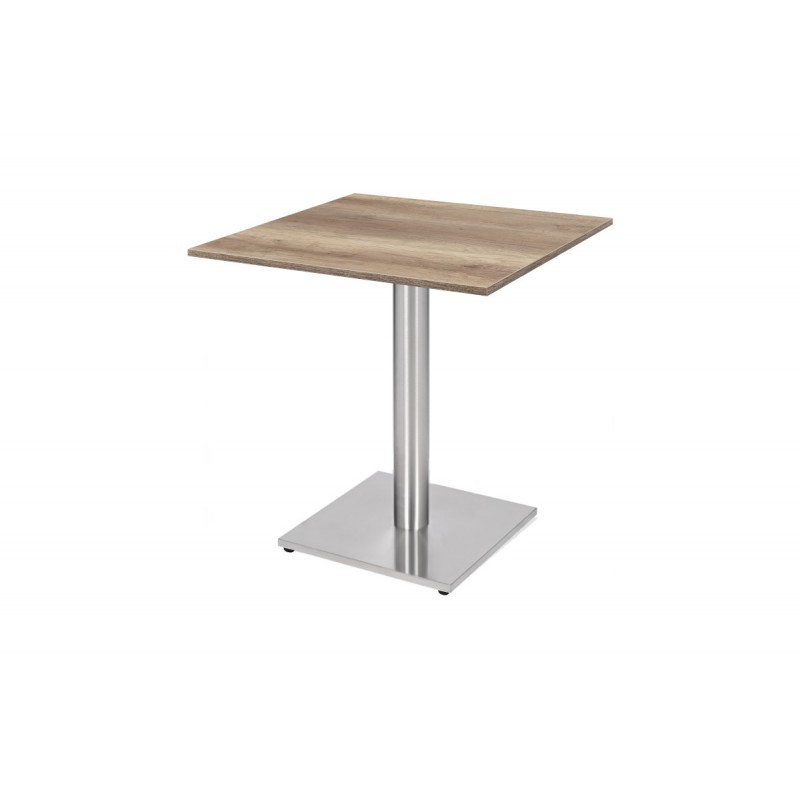  
Cafe tables are the specialized group of products in our HoReCa Furniture offer, in which you can find furniture in various specifications, price groups and for various purposes. All these products, regardless of the price, meet the strict criteria of durability and safety and they are in various sizes and colors.
The VERA cafe table is very popular with our customers due to its attractive price and modern design. Its pedestal is made of steel in the "stainless" color, the base measures 45 x 45 cm and is filled with a rubber weight. The column of the table has a circular cross-section with a diameter of 76 mm, which is a standard in cafe tables. A practical solution are adjustable feet, which allow you to level the table on uneven ground. When you buy a cafe table, you will receive assembly instructions and a set of dedicated bolts and screws.
For the VERA cafe table, we recommend table tops with dimensions from  60 to 80 cm. The most common choice of customers are laminated table tops with dimensions 68 x 68 cm or 70 x70 cm, in thickness 18 or 28 mm. 
Photos and videos of the product show only selected color configurations. All available options can be selected in the custom configuration field, available above this description.
Base construction
a strong 45 x 45 cm base guarantees the stability of the VERA cafe table, even under heavy loads
the 76 mm diameter post has been designed in a way that will ensure the unwavering stability of the table and plenty of space for your guests' legs
the base is equipped with adjustable plastic feet, thanks to which the base will not be damaged when the table is moved, and any unevenness will no longer be a problem
Laminated table top
boards from which we manufacture laminated tops are double-sided, which guarantees the safety of your textiles and clothes of your guests, additionally ensuring an aesthetic finish
the laminated top is finished with a 2mm thick rim, which makes it extremely resistant to damage and bruises
available thicknesses of the laminated top are 18mm and 28mm
Werzalite table top
Werzalite table top is resistant to weather conditions, including moisture and UV radiation 
werzalite is also characterized by high resistance to mechanical and chemical damage, which guarantees its unchanged appearance for a long time
the thickness of the werzalite table top is 35mm
 HPL table top 
HPL table top is resistant to very high and low temperatures and weather conditions
its characteristic feature is a black colored rim
the thickness of the HPL table top is 12mm
 Petralite table top 
the petralite table top is resistant to weather conditions, including moisture and UV radiation, thanks to an additional resin coating
the rim guarantees high resistance to mechanical and chemical damage
modern design available in two colors
the top thickness is 30mm on the edge and 16mm inside
Additionally
the tables are intended for self-assembly, we enclose the instructions with each table
1-year guarantee
always available in stock
Data sheet
| | |
| --- | --- |
| Height | 74 cm |
| Width | 60/68/69/70/80 cm |
| Length | 60/68/69/70/80 cm |
| Table top thickness | 12/18/28/35 mm |
| Table top | laminate/ werzalit/ HPL |
| Type | bistro |
DELIVERY METHOD
Thanks to our own fleet of vehicles, we can offer you transport by MEXTRA cars - including deliveries by large trucks. This guarantees safe and fast delivery directly from our warehouse to your premises.
When ordering goods in our online store, you can use several available delivery methods. For years, we have been cooperating with companies specializing in international transport, such as: DHL, DB SCHENKER or RABEN.

We also encourage personal pickups in our warehouses. For details, please contact the Sales Department.

PAYMENT METHOD
PAYMENT ON COLLECTION - on delivery at our warehouse. It is possible to pay in cash or by credit card..
100% PREPAYMENT - payment by bank transfer to the indicated bank account or DotPay electronic payment.
30% advance payment - in the form of an advance payment by bank transfer, the remaining 70% paid before sending the goods or an advance payment by bank transfer, the remaining 70% paid in cash to the driver upon delivery.
laminated table top

Laminated Table Top

, are most often chosen by customers for indoor use. Laminate worktops are manufactured from KRONO chipboard finished with a strong and aesthetically pleasing 2 mm PVC / ABS edging. They are very aesthetically pleasing, we offer more than 120 colours available as imitations of wood, concrete or classic single-colour boards.
We produce laminate worktops in a wide range of sizes - on request - as well as in various thicknesses of 18, 28, 36 and even 46 mm.
Key features of laminate worktops: ideal for interiors, available in 120 colours, lowest price
werzalite table top

Werzalite Table Top

are an internationally renowned design. They are made of wood-based, fine components, reinforced with waterproof resin. The characteristic shape of the tabletop, is achieved through a hot-moulding process. The top is finished with a high-quality laminate. The thickness of the top is 18 mm inside and 35 mm outside.
Werzalite Table Top are available in several colours and dimensions. They are perfect for both indoors and outdoors. The worktops are easy to keep clean.
Key features of verzalite table tops: ideal for outdoor use, scratch-resistant, UV-resistant
HPL table top

Incredible durability - these words best describe our HPL compact tabletops. Waterproof, flame-resistant, scratch-resistant and resistant to extreme temperatures are further features worth noting - all of which make HPL compact tabletops the absolute top of the range for café and restaurant table tops. Visually, HPL compact tabletops look very modern and fashionable. The ease with which the tabletops can be kept clean is also worth emphasising, thanks to their stain-resistant and easily washable surface. The combination of all the features offered by HPL compact tabletops makes them a real breakthrough for the HoReCa sector. As a manufacturer, we offer a wide range of countertop configurations
Petralit table top

Petralit Table Top

They are designed for both indoor and outdoor use. They are manufactured from 16 mm thick waterproof board, finished with reinforced laminate. The top is edged with a 30 mm edge made of plastic, which surrounds its sides aesthetically and permanently.
Petralit table tops are weatherproof and easy to clean. They are available in several colours and dimensions.
Key features of Petralit table tops: ideal for outdoor use, impact-resistant edge, resinous waterproof coating